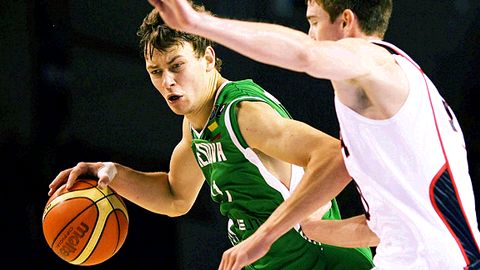 It's always interesting to look back on the draft and re-mock it after the season is done. There are some surprises (I. Thomas, C. Parsons) and a few disappointments (J. Fredette, Marcus Morris). This draft class was considered below average going into the offseason, but it turns out that there could be a star or two that end up coming out of it. There are a lot more quality players than expected and many that will have long, productive careers.
Cleveland - Kyrie Irving : No-brainer for this pick. Irving was clearly the best of his draft class and has shown that he could be a Chris Paul type of player for the Cavs. I can't wait to see him with more weapons to run with.
Minnesota - Jonas Valanciunas : He's dominating overseas at such a young age. He'd make for a great compliment to Kevin Love because of his mobility, length, post skills, and shot blocking ability.
Utah - Enes Kanter : I still love the upside of Kanter. Once Jazz trade Big Al, I expect Kanter's game to flourish. He's a beast on the boards, possesses nifty post moves, and is strong as an ox.
Cleveland - Kawhi Leonard : He's one of my favorite players because he could do it all. Leonard is the kind of glue guy every team needs and he'll win you lots of games. I underestimated his scoring ability prior to the draft and see that he is capable of scoring in a variety of ways against NBA talent.
Toronto - Klay Thompson : The best shooter in the draft is surprisingly adequate on the defensive end. He still needs to work on his rebounding and finishing, but he could end up being a very special player. Thompson plays with incredible poise and intelligence - advanced in playing without the ball and cool in the clutch.
Washington - Kenneth Faried : Relentless, hard working, and his energy is contagious. He needs to refine his scoring abilities, but he does more than enough to warrant a high draft pick.
Sacramento - Brandon Knight : Knight has the most upside of the PG's remaining on the board. I like him and he started to come on strong towards the end of this season. King's biggest need is a PG, and he would be a good one.
Detroit - Bismack Biyombo : A terrific compliment to Greg Monroe. Biyomobo has All-Defensive Team in his future and could provide lots of interior help for the Pistons.
Charlotte - Tobias Harris : Don't sleep on Harris. He's still under-the-radar but from what I've seen, this kid has got a bright future. I'm tempted to put him even higher, but the others above him are more established and he's not particularly strong on defense. If Bucks shuffle the roster to give Harris a more prominent role, he'll flourish.
Milwaukee - Derrick Williams : He's a tweener, but he's shown some good overall skills at times. He was drafted too high, but at No. 10, this would be a good spot. Williams won't be a star, but he'll pull out the occasional great game to help his team win.
Golden State - Donatas Motiejunas : Montiejunas is 21 years old, 7 feet tall, mobile, and can shoot. Scouts questioned his toughness, but he's answered by becoming the top rebounder in the Euroleague. I love his upside and he has a chance to be a very good big man someday because of his skill-set and athleticism for his size.
Utah - Isaiah Thomas : He was the biggest surprise of the draft, but I'm not sure if he could be a long term answer to a team needing a starting PG. Regardless, his skills and speed make him a valuable piece on any roster.
Phoenix - Tristan Thompson : He's a good rebounder, but needs to work on his scoring efficiency. I like his length and he give good effort on the defensive end. He'd make for a good compliment to Gortat.
Houston - Chandler Parsons : His ability to play both ends makes him a valuable find. He's a legit 3-point threat, a very good defender, and plays with intelligence and maturity. Parsons' versatility is a big plus.
Indiana - Jan Vesely : He's a wild one, but he's already a factor on the defensive end. His combination of athleticism and length make him a good bet to be a solid contributor either as a starter or top role player. Vesely needs to improve his shot so he can man both forward positions.
Philadelphia - Kemba Walker : He's a tough as nails, shoot first PG with a big heart. His motor never stops.
New York - Nikola Vucevic : Solid young center with good post play and feel for the game.
Washington - Marshon Brooks : He's a terrific scorer with an eerily similar game to Kobe minus the intangibles and defensive intensity.
Charlotte - Alec Burks : He's a proto SG who has the potential to develop into a very good scorer and well rounded starter. Bobcats sorely need that go-to guy and Burks might be able to develop into that player.
Minnesota - Chris Singleton : Lockdown defender with 3 point range. He's the next Bruce Bowen...and important role player / borderline starter for a good team. TWolves need that lockdown defender.
Portland - Iman Shumpert : Excellent size and athleticism at the point, Portland's greatest position of need. He's more of a combo guard, but he's shown he's been able to run a team. Shumpert contributes in many ways important for a team's success.
Denver - Charles Jenkins : This score first PG has shown good progress in evolving into a true PG. His toughness and size will make for a good compliment to Lawson.
Houston - Jeremy Tyler : He's a project, and he's coming along nicely making good strides in scoring in the paint and rebounding the ball. Tyler will need continue to work on the mental side - understanding defensive rotations, knowing when to pass, and improving his shot selection.
Oklahoma City - Markieff Morris : He's has the mentality of a combo forward. He scored easily in college, but has struggled with his shooting in the pros. Morris has had some good games, however, and could be a good fit playing between Durant and Ibaka as a supplemental scoring option.
Boston - Jordan Williams : Big body who rebounds very well. Williams is an efficient scorer, but not a big factor on defense.
Dallas - Jimmer Fredette : He's had a dissappointing year following high expectations, but if he can regain his confidence and add strength, he can have a career similar to J.J. Reddick's.
New Jersey - Jordan Hamilton : One of the better shooters coming out of college - great size for a SG and has the skills to develop into a solid pro. He rebounds well for his position, but needs to play with more effort on defense.
Chicago - Jon Leuer : Big man with range. Bulls need one and Leuer has shown he can adequately fill that need.
San Antonio - Kyle Singler : He's an underrated SF/PF and has played well with Madrid.
Chicago - Malcolm Lee : Defensive-minded PG with good size and upside. He'll provide additional insurance for Rose's injury concerns.