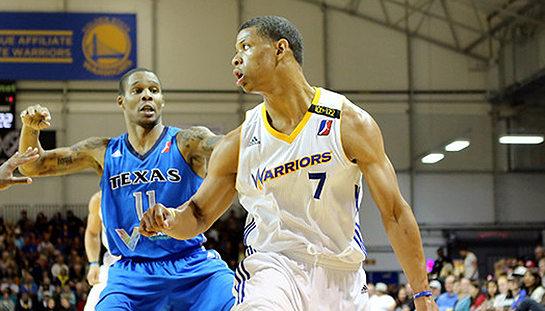 Here's an article from the Santa Cruz Sentinel detailing how Scott Machado has been spending his offseason:
Although we need Jarret Jack to re-sign, it may not be the end of the world if Machado and
Nemanja Nedovic
ended up being the backups PG's to Curry.
They are two very different types of players who can be trotted out onto the court, depending on the situation. One is a true PG and the other is a fearless, athletic attacker who plays above the rim and can create for others on the drive and dish.
Stakes are high for Machado. If he does really well in Summer League (high efficiency and leads team to Finals), he might be enough - otherwise, Warriors need to look elsewhere. It may sound like a risky proposition going with two young backup PG's, but if they can team up to give Curry 15 minutes of rest per game, than it may be enough. With Brandon Rush back and Kent Bazemore improving, there won' t be as much a need for Curry to slide to SG. Curry can play almost exclusively at PG until Nedovic gets up to speed. If, by the trade deadline, it's clear the Warriors need to upgrade at backup PG, they can make a move.
Hopefully, Nedovic can play Summer League so we can see how far he is to contributing quality minutes. Serbian Nationals Team obligations may force him to miss the valuable evaluation phase in Las Vegas. In addition, Nedovic and the Warriors have to agree to a buyout from his current team, Lietuvos Rytas Vilnius. Regardless of how ready he is now, he needs to be signed so his development can start under the Warriors' close watch as soon as possible.
The plus side of going with Machado and Nedovic is that we can use more of the available salary on a big man who's able to backup PF and C. More importantly, the Warriors will be able to minimize additional salary going into the 2014 offseason, allowing them to be major players in the Free Agency market.
PG: Curry / Machado / Nedovic
SG: Thompson / Bazemore
SF: Barnes / Rush / Richardson
PF: Lee / FA / Green
C: Bogut / Ezeli / Biedrins
FA PF/C:
J.J. Hickson
Marreese Speights
Andray Blatche
Elton Brand
Ivan Johnson
Byron Mullens
Some of those names may seem beyond reach, but the Warriors appear to be under the tax apron enough to use the Non-Taxpayer Mid-Level Exception of $5.150 million. Landry took a paycut, so one of the first three on the list may do the same.
If Machado can show the Warriors that he is capable of manning the backup PG position, it opens up a lot of options for them this offseason.