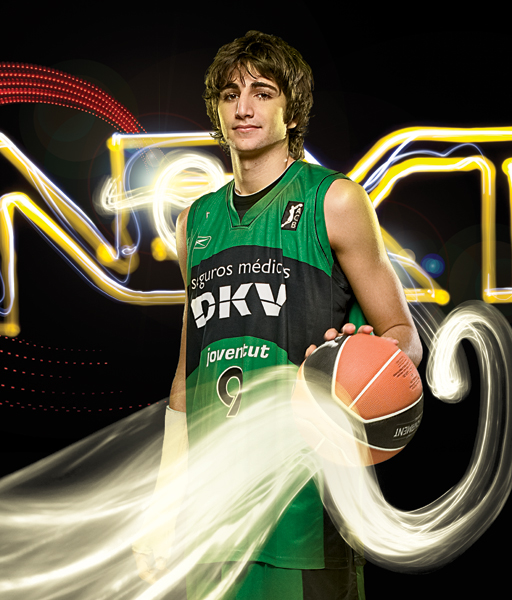 Two of the toughest positions to field with star talent are PG and C. Rubio is already a star in Europe at the young age of 18. Blake Griffin has the makings of a star, but is a PF, a position easier to fill. Players with Griffin's attributes are less scarce.


The Warriors biggest area of need is PG. Monta Ellis is trying hard to learn the role, but it's becoming clear that he doesn't have that special something that allows him to see the entire floor seconds before it actually happens, nor does he have the passing ability to get players the ball in tight spots.


Rubio will fill the seats for the next decade-plus. He's humble, charismatic, talented, and has a flair for the spectacular. The fans will love him (especially the females) and so will Cohan's bank account. More revenue means more money to spend on free agents.


A PG of Rubio's caliber is difficult to find and even harder to trade for. IF he reaches his potential, he's the kind of player that teams hold on to for their entire career. Better secure his services now while you still can rather than over-paying to try and trade for him when he is a star.


The only other player worth taking #1, Blake Griffin, plays the same position that two fast rising Warriors play. Randolph and Wright aren't as potent scorers but they are far better defensively than the undersized Griffin will ever be. Warriors are loaded with scorers already and have the 22 year old Biedrins who is always among the top players in fg% is a potent weapon inside when given the opportunity. To think that Biedrins is not going to continue to add post moves to his repetoire is insane. He is years away from his prime, so the front court, along with the hustle and heart of Turiaf, is set. Drafting Griffin would help, but it would also force Randolph to SF and slow the development of Wright and Griffin. A trade would be necessary to clear the log jam and bring in a true PG.


Griffin = cross between Michael Beasley, David Lee, and Carlos Boozer. Rubio = a cross between Pete Maravich (creativity), Stockton (steals), and Steve Nash (elevate team play). Rubio will make a greater overall positive impact on this team than Griffin will.


Don Nelson stated in a recent radio interview that the Warriors need to acquire a player that is a good rebounder and defender, but first and foremost, is a passer. He needs to be able to get the ball to where it needs to be and make sound decisions every second on the floor. Rubio is a decent rebounder for his position, was awarded Defensive Player of the Year in the ACB League, and is THE best passer to come into the league in a few years. There's no question that he is a true PG and that he would be an ideal choice for acting as an extension of the coach on the floor. He's only 18, but he knows the game inside and out and plays the game like a coach's son.


Rubio makes others around him better. Right now, the Warriors are a team filled with young, exciting talent, but they are without a captain that could take command of the ship and lead the group in the right direction. Rubio will make the game easier for others, especially for the Big 4 who are athletic, have good hands, and fast reactions. Baskets will come easy for everyone else. Wright, Randolph, Biedrins and Turiaf will get high percentage opportunities with a true PG of Rubio's caliber on the floor. He can get to any spot on the floor and once he's there, he knows what to do with it.



Chris Paul and Kobe Bryant think he has the potential to be a special player. They played against him and came away very impressed and believe he has a bright future ahead of him. I'll trust their judgment of talent any day. "It's crazy what he's already done," Paul says. "He will come to the NBA and steal my job."


Read the scouting reports and watch the footage - this kid is going to be special.

Note: if you only have time to watch one video, watch the last one where you get a taste of how much of an impact Rubio makes in a single game. Also, keep in mind that he is fresh from returning from wrist surgery.















And I leave you with a quote from one of my favorite sports writers, Bill Simmons:


Ricky Rubio started for Calderón and was solid, if not great. But the feat itself? Do I need to remind you he's the same age as Jamie Lynn Spears? Imagine Team USA picking Chris Paul and a high school kid as its point guards, then Paul missing the gold-medal game and the teenager holding his own? How many commercials would he be filming right now? Twenty? The nonstop Pistol Pete comparisons are beneath Rubio; his defensive instincts, playmaking and athleticism bring him closer to a hybrid of Scottie Pippen and a young Magic—if they happened to look like one of the Jonas Brothers. I love Ricky to the point that I might move to whatever NBA city gets him. You think I'm kidding.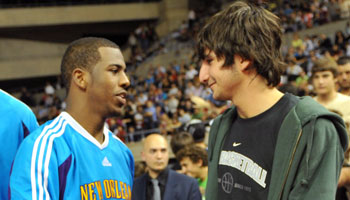 Related Links
LA PISTOLA - ESPN the Magazine
Ricky Rubio may enter 2009 NBA Draft - Interbasket.net
Ricky Rubio - NBADraft.net
Ricky Rubio Prospect Profile - Draft Express
Ricky Rubio Draft Bio - ESPN
Ricky Rubio : Next Bio - ESPN the Magazine