The Warriors are rumored to be going after
Troy Murphy and a 2nd Round pick
by dealing the expiring deals of Dan Gadzuric and Brandan Wright. This would be a mistake, and here's why:
I understand the the primary motivation for doing this trade is not to acquire the services of Murphy, but to land another pick. Unfortunately, a 2nd Round pick in this year's draft is practically worthless.
You have to have the best scouts and get lucky to land a guy that can even stick with the team. Underclassmen will opt out due to lockout concerns and they will be left to choose from D-League fodder and players of high risk, mid-level reward. I highly doubt there will be a Landry Fields or Monta Ellis lurking in the depth of this draft class.
They need to work towards acquiring a 2012 first, or they're just wasting their assets and trading just to trade. 2012 will yield a bumper crop of talent. Even a late first will likely have the same impact as a late lottery pick in this year's draft.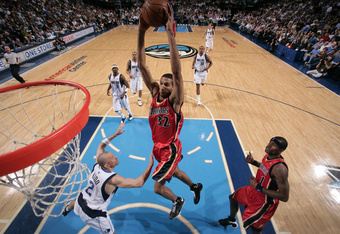 Brandan Wright is worth more than a 2011 2nd rounder. He won't make more than what Amundson's getting in his next contract, so keep his bird rights and deal him in the offseason if need be. I'd like to see him stay and see how the new training/medical staff works with his health and keeping him on the court. He's only 23 (5 months younger than Udoh) and we haven't been able to adequately evaluate him due to all his injuries. For all his shortcoming, he has shown that he can be a defensive asset with his length as well as one of our best interior scores with his developing post game and unblockable shots. Give him consistent minutes from here on out, to both showcase him and determine if he's worth developing further.
I know fans are hoping for a major free agent addition this summer, but unless we deal Charlie Bell and Andris Biedrins, we're stuck with a MLE type of addition. I believe we can make another Dorell Wright kind of signing this summer(Afflalo?), draft intelligently (Nellie the draft consultant?), and have a great shot at making the playoffs next year. Management and ownership need to stick with their plan of building a great team incrementally even though it may be unpopular to much of the fanbase. Unless there is an obvious benefit for a trade, continue to work towards getting better through the draft, internal development, modest free agent signings, and maintaining cap flexibility.
The Warriors are good enough to make the playoffs. Once they shake the losers label and they've increased their popularity, they can afford to do major retooling by dealing Monta Ellis if it's clear that they cannot build a contender because of the undersized, defensively deficient backcourt. I like what I've seen and heard from the new ownership thus far, so I trust they are smart enough to stay clear of trading just to make a trade.
Related Articles
Matt Steinmetz:
W's trade with Nets would yield, Murphy, 2nd-rounder
Rusty Simmons:
UPDATE: Riley on Warriors- Murphy report
ProBasketballTalk:
Warriors working to land Troy Murphy, one way or another
Rusty Simmons:
Joe Lacob praises coach, GM for Warriors' gains