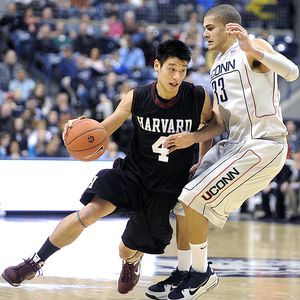 The trend of not matching free agent offers continues and the bench becomes more and more depleted. Watson is on the verge of signing with the Bulls and in return, the Warriors will get a future pick (2nd Rounder?) and a Trade Exception.
I'll miss Watson's knack for disrupting the passing lanes and clutch shooting down the stretch, but if he's being offered the rumored $10.2M over 3 Years deal, then I'd have to pass in order to preserve our cap flexibility for the coming off-seasons. Until we have solidified our starting lineup and are ready to make a serious playoff push, I think it's wise to steer clear of pricey, multi-year contracts for role players.
As a replacement, I'd go after Jeremy Lin. He's a more realistic target than Patty Mills since the deep pocketed Blazers will most likely match anything we can offer. I didn't know much about Lin's game, quite frankly, until I started doing more research recently after seeing him play very well in Las Vegas. He's exciting, pushes the tempo, has a high basketball IQ, can shoot the 3, is a good steals guy, plays good defense, and is fearless going to the rim. The crowd would love him and he already has a big Bay Area following because of his Asian American ethnicity and Palo Alto ties. He's a huge Warriors fan and his favorite player is Curry. Lin also says that playing for the Warriors would be a dream come true because he grew up a fan, so that's got to give the Warriors an edge in any bidding war. .
Right now, Dallas, the Lakers, and a few other teams have shown interest in signing Lin. With the departure of Watson, the Warriors could probably give him the most playing time and fulfill his childhood dream of playing for Golden State. Now that Morrow and Watson off the books, the Warriors shouldn't have any problems committing to whatever modest salary it would take to land him. So what are we waiting for.....GET LIN!!!!
Draft Express Scouting Report
:
NCAA Weekly Performers, 12/18/09
December 18, 2009
Jonathan Givony

It's not often that a player from the Ivy League conference is able to break through and establish himself as a legitimate NBA draft prospect, but that's exactly what Jeremy Lin has done this season. Strong performances against UConn (in a narrow loss) and Boston College (a road win) have propelled him directly into the national spotlight, culminating in a feature story on ESPN.com last week.

Lin's physical tools are less than ideal when compared with most NBA guard prospects, as he's a 6-3 combo guard with a narrow, but strong frame that he's absolutely made the most of, and a wingspan that appears to be below average. He has good, but not great athleticism, showing very nice quickness in the open floor and some solid leaping ability, but clearly isn't the most explosive player around.

Offensively, Lin is an exceptionally efficient player, shooting 60% from inside the arc and 37% from outside it, while getting to the free throw line at a terrific rate—almost 10 times per-40 minutes pace adjusted. He is not what you would call a stellar ball-handler, but is excellent on the pick and roll and is very aggressive looking to get to the basket.

Although he plays mostly off the ball for Harvard, he is pretty much their main facilitator and clearly the player his teammates look to early and often. He executes his team's plays extremely well and is highly unselfish, showing very nice court vision whipping crisp passes around the court confidently, always looking to make the simple, fundamental play. It would be nice to see Lin get a little more time at the point guard spot for Harvard, but based on what we can tell he seems to have very good instincts as a playmaker.

Lin's biggest weakness would clearly be his propensity for turnovers, he tends to get called an awful lot for traveling violations, and seems to struggle finishing around the rim in traffic. Lin's left-hand is noticeably weaker, both creating shots and finishing them, and he generally has trouble in the half-court if he can't beat his man initially with his very quick (and very long) first step.

As a shooter, Lin sports somewhat unorthodox mechanics, kicking his legs out violently and often fading away excessively on his pull-up jumpers, but is able to make up for that and then some with his innate shot-making ability. He doesn't take all that many shots from behind the arc—a little over 3.5 per game over the past three years—but he makes the ones he takes at a pretty solid rate, even if there is clearly room for improvement.

One thing that Lin does do exceptionally well is fill up the stat-sheet in every way possible. Besides being a terrific (and extremely efficient) scorer, he generates a large amount of rebounds, assists, steals and blocks, and beyond the numbers seems to have nice toughness and a very good feel for anticipating plays and being around the ball.

Defensively, Lin is a pretty serious guy (as he is in all aspects of the game), but there may be some question marks about his potential here at the NBA level, as he lacks great size or length, and isn't the strongest or most athletic guy in the world. This is something he will have to really work to dispel in private NBA workouts as he's matched up with other top guard prospects in one on one, two on two and three on three situations.

Lin has a number of things going for him, and is clearly a prospect teams should take note of. His gaudy stats, strong intangibles and excellent basketball IQ will all work in his favor, but he still has plenty of work ahead of him if he's to be drafted and/or make an NBA team. Strong showings against the likes of Georgetown, Seattle University and George Washington would surely help his cause, as would making the NCAA tournament, and accepting his invite to play at the Portsmouth Invitational Tournament, a place where he could really help his stock.